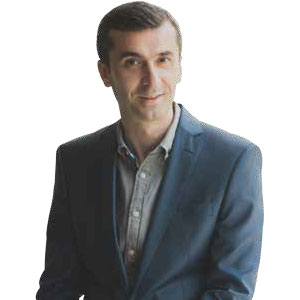 Doing more with less is seldom easy. But leading-edge technologies such as artificial intelligence and data analytics help mobile operators do just that. These advanced technologies will continue to make stronger impact in the communications industry with the onset of 5G networks. The operators can now not only serve more users but also meet their growing demands. However, adopting inventive technologies and disruptive approaches presents its own set of challenges. With plentiful investments in technologies, operators find it daunting to manage the overly complex technology orchestration. This is where Innovile find its relevance. Innovile serves as a 'glue' between operators and new technologies. "We empower our clients—from small carriers with a million subscribers to leading carriers—to streamline their business, improve customer experience, boost efficiency, and unlock revenues," says Erdal Koklu, CEO of Innovile.
Innovile's solutions and services are tailored precisely to match a client's existing infrastructure. The company offers a configuration management solution that integrates multi-vendor and multi-technology components into a centralized platform to increase network efficiency and simplify its operations. The solution proactively helps reduce configuration errors across complex networks, which in turn, improves cost savings by 30 percent. Configuration errors in complex networks are a vital cause of customer complaints, and Innovile's solution helps clients enhance their network reliability and customer satisfaction to that end.
We empower our clients—from small carriers with a million subscribers to leading carriers—to streamline their business, improve customer experience, boost efficiency, and unlock revenues
The solution can be rapidly implemented in about 1-2 weeks, and the speedy delivery enables clients to achieve quick business results.
Moreover, as 5G continues to transform the mobile landscape, monitoring the performance of complex networks is becoming a growing concern. Innovile's Performance Management solution offers visibility into end-to-end network performance through simplified reporting mechanism, helping the administrators to tackle the problems in a timely manner and drive operational efficiency.
With exploding network traffic and mounting pressure on mobile operators' business case, self-organizing networks (SON) play a crucial role in optimizing performance. SON minimizes the cost of running a mobile network by eliminating manual configuration of network elements from deployment through dynamic optimization and troubleshooting post implementation. Innovile's SON solution allows clients to automate network management, allowing them to dedicate their resources to other activities and focus on building better customer experiences. With the solution, clients are improving their network capacity by more than 20 percent and increasing the network throughput by 15 percent. There has been a decline in the dropped call rates as well. Innovile has successfully deployed the world's largest SON solution for the leading Russian mobile operator, MegaFon. The client's network currently consists of around 800,000 cells and is projected to reach one million cells in the next five years. MegaFon's network is a complex combination of technologies from many vendors, including more than 20 different operational support systems (OSS). Currently, Innovile's SON is used to standardize operations and optimize the multi-technology, multi-vendor network across Russia, spanning 11 time zones and covering around 77 million subscribers.
Innovile's experience in the network optimization and automation space has allowed it to deliver flexible and modular solutions. Looking toward the future, the company aims to expand its presence in Europe, using its branch office in Barcelona as the base. Apart from Europe, Innovile has plans to enter the U.S. and APAC market by 2020; it has already entered into agreements with two partners for marketing and sales in the APAC region. With proven expertise and experience in enhancing network performance, Innovile is set to become the solution provider of choice for mobile operators.